José Melo-Ferreira, CIBIO-InBIO | November 06, 2020 - 15h30 | ONLINE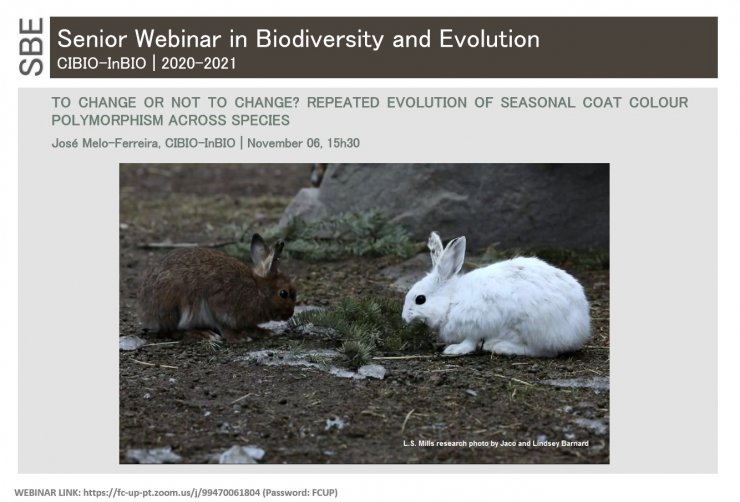 The ability to change the colour of the coat from summer-brown to winter-white is one of the most remarkable adaptations of some boreal mammals to seasonal environments. Seasonal coat colour change is triggered by photoperiod, and its adaptive value is camouflage on backgrounds seasonally covered with snow. Many of these species maintain non-white winter morphs, locally adapted to habitats with less snow. The repetition of the coat colour polymorphism within genus and across genera, raises fundamental questions about the pathways for recurrent evolution moulded by common selective pressures. Even though the evolution and genetic basis of static pelage colour have been widely studied in mammals, the mechanisms underlying seasonal coat colour change and winter colour polymorphism have only recently begun to be addressed. Using high throughput sequencing approaches we shed light onto these questions across several model systems.
José Melo-Ferreira is Researcher at CIBIO-InBIO, University of Porto, where he leads the research group "Genomics of Evolutionary Change" (EVOCHANGE). His team uses genomic approaches to study key evolutionary processes, such as adaptation, hybridization, and often the relationship between the two. He is currently working on the evolution of seasonal coat colour change, how and why genetic variation crosses the species boundaries, and other relevant population processes.
[Host: José Melo-Ferreira, EVOCHANGE]
Link to the webinar: https://fc-up-pt.zoom.us/j/99470061804 (Password: FCUP)