From March 21, until March 23, 2022 - CIBIO-InBIO, Vairão, Portugal (Online & Face-to-face)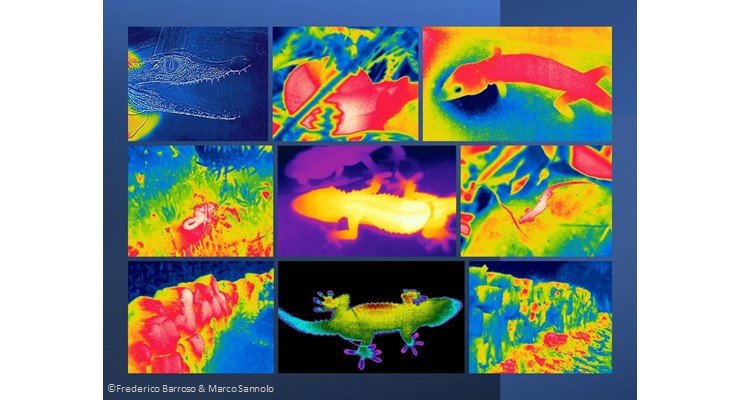 TERRESTRIAL ECTOTHERMS THERMAL ECOLOGY IN A CHANGING WORLD: THEORY AND PRACTICE

From March 21, until March 23, 2022 - CIBIO-InBIO, Vairão, Portugal (Online & Face-to-face)
The course will provide the students with an overview of the theory of thermal adaptation, with a particular emphasis on terrestrial ectotherm animals. The sessions will cover animal thermoregulation, links between temperature and life-history traits, adaptation to anthropogenic climate change, and biogeographical aspects of thermal biology. The practice will explore some of the most used technique to study thermal biology.

PROGRAMME:
DAY 1. 21 March 2022
9:30 - 11:00h - Welcoming/History of thermal biology research
11:30 - 13:00h - Thermoregulation, acclimation and adaptation in ectotherm animals
14:00 - 15:30h - Multiple adaptive peaks, adaptive hybridization and phenotypic plasticity
16:00 - 17:30h - Methods, tools and procedures in thermal studies
DAY 2. 22 March 2022
9:30 - 11:00h - Global temperature and ectotherms biodiversity and distribution
11:30 - 13:00h - Water and temperature constraints on ectotherms
14:00 - 15:30h - Effects of anthropogenic climate change on ectotherms
16:00 - 17:30h - Biogeography and comparative methods in thermal biology
DAY 3. 23 March 2022 (unavailable to online participant)
9:30 - 12:30h - Lab practice: techniques and tools in thermal ecology
14:00 -17:30h - Group activity: cost and benefits of being an ectotherm
Hours: 18

SCHEDULE
9:30am to 17:30pm, lunch between 13:00-14:00

Additional information: The course is intended to be in classroom if health measures will allow it. Otherwise, it could be held remotely by ZOOM.
COURSE INSTRUCTORS
Marco Sannolo (Coordinator) | Museo Nacional de Ciencias Naturales | CIBIO-InBIO | FBIO
Miguel Carretero | CIBIO-InBIO | FBIO
Raquel Ponti de la Iglesia | CIBIO-InBIO | SOCIALITY
Frederico Barroso | CIBIO-InBIO | FBIO

INTENDED AUDIENCE
The course will be open to a maximum number of 20 participants.


SELECTION CRITERIA
75% of available student slots are reserved for BIODIV students.
Priority will be given to:
• 1st year and other PhD students attending the BIODIV Doctoral Program;
• PhD students attending other courses;
• Other post-graduate students and researchers.

REGISTRATION
(face-to-face or online)
Participation is free of charge for BIODIV students | 65€ (students) | 125€ (other participants).

CIBIO-InBIO members will have an additional discount of 20%.
Please note the rules apply for all BIODIV students

APPLICATIONS DATES

Registration deadline: POSTPONED - February 28, 2022

All applicants will be notified about whether they are accepted until March 7, 2022
------------------------------------------------------------------------------------------
Fill out the application form and confirm that the following message appears:

Thanks for your application!
Applicants will be informed of their acceptance by email.
We suggest that the internet explorer browser is not used to register