Mariana Marques, CIBIO-InBIO/UP | December 04, 2020 - 14h45 | ONLINE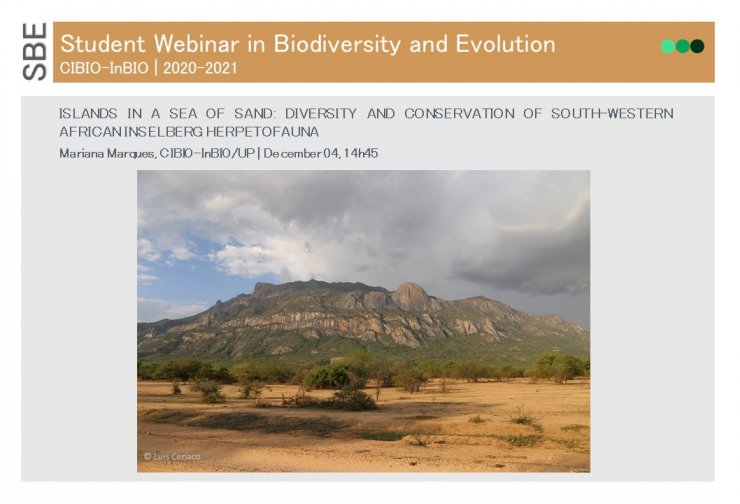 South-western Angola is one of the richest regions in terms of herpetofauna in the country. This region has the second highest peak in the country - Serra da Neve inselberg - which is still one of the most uncharted places in the country. Inselbergs are known to be important areas in terms of endemism and biodiversity. Due to their unique array of geographic, topographic, and climatic influences these systems create specific conditions for species diversification and structuring in both animal and plant communities. Using amphibians and reptiles as models, this project aims to study this unexplored inselberg and try to answer to several questions: 1) what is the species composition of amphibians and reptiles in those areas; 2) what is the origin of the fauna diversity of inselbergs; 3) what are the patterns of genetic relationships between inselberg fauna and the surrounding habitats; 4) what are the ecological parameters that explain this diversity; and 5) what can we do to preserve those areas. This project already counts with three new species descriptions for the inselberg, confirming that Serra da Neve displays an important place for regional endemism and plays a major role on species diversification and speciation. These novelties highlight the importance of planning and execute a management and conservation plan by the local, national authorities from Angola.
Mariana Marques holds a MsC in Conservation Biology from the University of Évora, Portugal. Currently she is a PhD student on BIODIV doctoral program, working under the supervision of Dr. Aaron Bauer (Villanova University, USA), Dr. Luis Ceríaco (Museu História Natural da Universidade do Porto, Portugal) and Dr. Nuno Ferrand (CIBIO-InBIO). Her interests focus on African herpetology, taxonomy, natural history collections and phylogeography.
[Host: José Carlos Brito, BIODESERTS]
Link to the webinar: https://fc-up-pt.zoom.us/j/96256597047 (Password: FCUP)